College Takeover Tour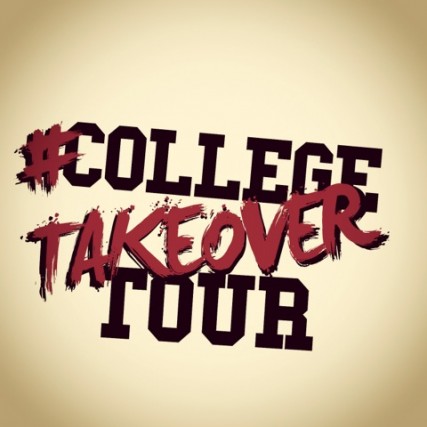 The #CollegeTakeoverTour Returns one more time for 2014
The previous tours were insane! We have rocked across the whole country reaching over 45,000+ students
Check out the latest promo for the upcoming tour below
THIS YEARS TOUR IS GOING TO BE EVEN BETTER!!!
How will I top the past tours??
More Give Aways!
More! #CollegeTakeoverTour Sun Glasses!!
More Music!!!
New Schools!!!
More Turn UPS!!
Look out for when my team and I hit your campus!!!
We still have available dates for YOUR EVENT!!! Book us to rock out!!!
Tell your Student Government! Tell your College Activites Board!!! Tell your Greeks!!! Tell your Line Sister or Line Brother!! Tell your Clubs!! Tell your Teams!!
YOU WANT THE #COLLEGETAKEOVERTOUR @ YOUR EVENTS!!!
THIS WILL BE THE BEST, CRAZIEST, LIVEST, TURNT UP #COLLEGETAKEOVERTOUR YET!!!!
CLICK HERE TO REGISTER YOUR SCHOOL AND BOOK YOUR EVENT ON THE #COLLEGETAKEOVERTOUR TODAY!!!
Some of the Previous #CollegeTakeoverTour Stops
Alfred State University
Buffalo State College
Columbia University
Cornell University
CUNY Baruch
CUNY Hunter College
CUNY John Jay College
CUNY Lehman College
George Washington University
Hamilton College
Ithaca College
Nazareth College
NYU
Pace University
Rensselaer Polytechnic Institute
Rochester Institute of Technology
Rowan University
St. John Fisher College
Stevens Institute of Technology
SUNY Albany
SUNY Binghamton
SUNY Brockport
SUNY Cortland
SUNY Geneseo
SUNY Oswego
SUNY Plattsburg
SUNY Stony Brook
Syracuse University
Union College
University of Buffalo
University of Rochester
Utica College
Share